Rotadairon machines for turf producers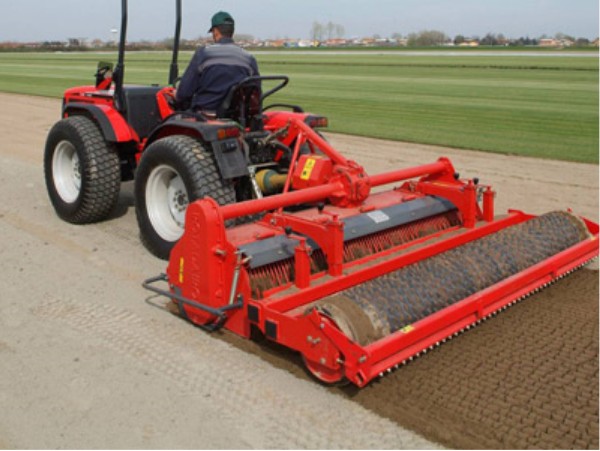 Rotadairon machines for turf producers
Rotadairon® supports the players in the veneer grass industry with its equipment for soil preparation and sodding. Large machines have been specially designed for veneer turf operations.
Preparing the soil is an essential step to prepare a good seed bed. A soil strewn with stones is not a suitable primer for a good seed bed. The most effective tool to remedy this is the stone burier.
A stone burier allows different actions in a single pass. It is all these processes together that will lead the soil of the golf course to be properly oxygenated. Thus the seedbed will be in the optimum conditions to host the seeds and constitute the foundation of your crops and your grass.
A stone burier firstly prepares the ground milling. In addition, stones, grass clods and waste are buried. These have been retained by the selection grid and then buried. Then, only finely sieved soil remains on the surface of the ground. The spreading is regular and the ground will be levelled thanks to the final rolling.
These tools are valuable allies that adapt to the state of your soil even when it is particularly compact and hard, this is why they are excellent soil preparers. There are several models of stone buriers. You have to take into account the nature of the land and your purpose. The choice is also motivated by the power of the tractor used.
Rotadairon® offers stone buriers for variable power tractors. Several criteria can guide your selection: the working width (from 750 mm to 3680 mm), the working depth (from 140 mm to 220 mm) and the power of your carrier. The roller chassis can be mechanically movable
For turf trusses equipped with large tractors, you can opt for the Rotadairon® stone burier RD 250 or RX 200-250-300-370 (for 90 to 200 HP tractors). This range of soil preparers is very suitable for big jobs, and especially for lawn veneer manufacturers.
Rotadairon offers sod installers that will save you valuable time. Our three seeding technologies (Gravity, Splines, Pneumatic) used by our sod installers will meet your conditions of use:
Gravity Seed Drills: These seed drills are particularly suitable for grass seeding in common applications
Spline Seeders: These seeding machines are recommended for those works requiring more precision
Pneumatic Seed Drills: These seed drills are particularly suitable for wide ground works (>2m)
Our machines (seeding machines, seed drills, etc.) allow to fulfil the seeding in a single pass. They can be combined with a soil preparer/ stone burier or used independently. The seed flow control system allows precise management of the implemented quantities.
Rotadairon® seeders SMG 155 and 205 and Rotadairon ® SMA 305 are tractor-mounted gear machines.
Rotadairon® seeders SMG 155, 205 are equipped with gravity seed drills
Rotadairon® seeder SMA 305 is equipped with a pneumatic seed drill.
They are all mainly designed for large area seeding. Equipped with two cast-iron rollers, the Rotadairon® SMG 155, 205 and SMA 305 provide one-pass sodding. They are used on a field previously worked with the help of a soil preparer/ stone burier.
Rotadairon manufactures dethatching machines for lawn maintenance. The accumulation of organic debris on the surface of the soil leads to felt formation, which prevents the grass from breathing, water to circulate freely, thus promoting cryptogamic diseases. The dethatching is the most effective tool to remedy the accumulation of this layer.
The Rotadairon® ED 130 and 180 dethatching machines allow to perform four different operations:
– Dethatching removes organic matter that slows down permeability and gas exchange and leads to cryptogamic diseases and grass tearing
–  verticutting is the scarification of the soil, that is to say, to aerate and reduce the waste of grass cut on your grass and lawns then left on site
– spiking is the soil aeration by perforation. This operation strengthens the depth of rooting and increases the water penetration of your grass
– the rolling of the soil removes air pockets at the roots and allows a better rooting of the young seedlings.
The exclusive system of knives fixing to the rotor allows a quick change (in 1h30!) and without any effort of the cutting tools. Each knife is placed independently on the rotor, so to vary their positioning and model. Rotadairon offers 3 types of knives depending on your operating conditions:
– Sharpened knives: made of stainless steel for a classic dethatching.
– Not sharpened knives: made of stainless steel for a more aggressive dethatching
– Carbide knives: made of alloy steel with carbide plate for a very aggressive dethatching
Find out more about our entire product range for the creation and maintenance of green spaces!