Rotadairon machines for rental companies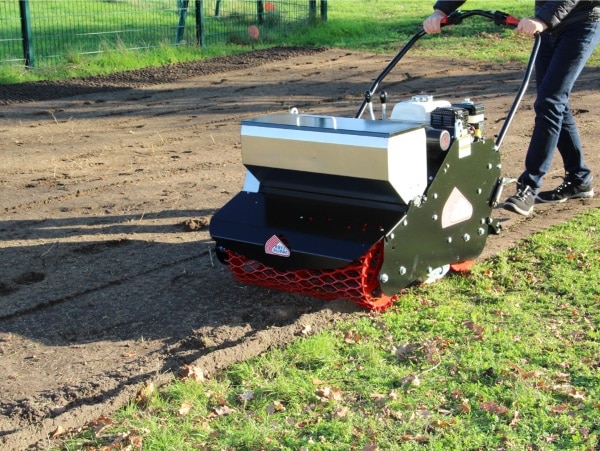 Rotadairon machines for rental companies
ROTADAIRON designs and manufactures professional equipment for the building and maintenance of green spaces.
Rotadairon® professional machines are easy to handle. Our products can be used by professionals or individuals who have an occasional need. The robust design of our machines is adapted to a multi-user context.
Our product ranges can be mounted on a wide range of loaders (tractors, skid-steers & radio-operated tool holders, hydraulic loaders, tillers) and covers the entire activity of green spaces. We offer stone buriers, also known as soil preparers, seeders, overseeding equipment and mulching equipment.
Rotadairon® offers stone buriers for variable power loader-type machines and tractors. Several criteria can guide your selection: the working width (from 750 mm to 3680 mm), the working depth (from 140 mm to 220 mm) and the power of your carrier. The roller chassis can be moved manually or hydraulically.
For Mini Loaders and Hydraulic Compact Loaders, choose equipment such as the Rotadairon® STH 36 and 42 stone burier or the Rotadairon® RDH 52 and 60 stone burier. It is well suited for setting up green spaces and sports ground floors.
For tractors of small or medium power, the following machines are recommended,
Rotadairon® burier Stony 75-90-115 (for micro-tractors from 15 to 25 HP),
Rotadairon® burier ® RD 100-130-145 (for micro-tractors from 22 to 35 HP) and
Rotadairon® burier ® RD 150-180-200-250 (for tractors from 45 to 90 HP).
Rotadairon® also designs and manufactures seeders. Our products will save valuable time to your clients. Our three seeding technologies (Gravity, Splines, Pneumatic) used by our sod installers will meet your conditions of use for landscape planning:
Gravity Seed Drills: These seed drills are particularly suitable for grass seeding in common applications
Spline Seed Drills: These seed drills are recommended for those works requiring more precision
Pneumatic Seed Drills: These seed drills are particularly suitable for wide ground works (>2m)
Like stone buriers, Rotadairon® seeding machines can be mounted on many construction equipment such as tractors or hydraulic carriers.
Our machines (seeders, seed drills, etc.) make it possible to produce sodding surfaces in a single pass during or after the work done by the soil preparer (stone burier). The seed flow control system allows precise management of the quantities implemented. The seed flow control system allows precise management of the implemented quantities. Control your projects, avoiding overconsumption! Avoid recoveries, as a result of seeding in insufficient quantities!
Do you want a perfect surface? Use our equipment for sodding.
The Rotadairon® SEEDCAR is the machine necessary for small and difficult-to-access areas (restricted entrances, tree towers, etc.). Its manoeuvrability will allow you to pass in small spaces and corners difficult to access. This manual seeding machine is designed for planting all types of grass. For green grass in spring and throughout the year, you can plant seeds in the soil in autumn (for temperate climate zones).
For an improved confort of operation, go for the e.SEEDCAR !. The Rotadairon® e.SEEDCAR is an electric assisted seeder which will allow you to comfortably turf your land and preserve the environment.
The machine is fitted with a quiet electric motor and its battery has an autonomy of 60-90 min, allowing for about 2500 m² per cycle.
The Rotadairon® SD 700 is a self-propelled seed drill designed for precision seeding, seed burial and ground filling.
The Rotadairon® SD 700 allows the majority of lawn varieties to be sown for impeccable lawns in parks and gardens. Reliable, handy and efficient, it allows you to sow quickly and effortlessly. The metal mesh roller in the front wafts the ground. Then the seed drill deposits the seeds. Then the rotor scratches the ground. Finally, the smooth roller at the back compacts ideally the soil allowing a good contact between the seeds and the soil to promote good germination, and avoids the marking of the steps of the user.
Rotadairon® SMG 155 and 205 are tractor-mounted sodding machines. Equipped with gravity seed drills, the Rotadairon® sodding machines SMG 155 and 205 are mainly designed for large area seeding. Equipped with two cast-iron rollers, the Rotadairon® SMG 155 and 205 provide one-pass sodding. They are used on a field previously worked with the help of a soil preparer/ stone burier.
We also offer sodding machines as complementary equipment to stone buriers. These features are optional products that can be mounted directly on stone buriers.
The Rotadairon® dethatching machine DS 130 and DS 180 can perform 4 different actions on your lawns:
Dethatching removes organic matter that slows down permeability and gas exchange and leads to cryptogamic diseases and grass tearing
Verticutting is the scarification of the soil, that is to say, to aerate and reduce the waste of grass cut on your grass and lawns then left on site
Spiking is the soil aeration by perforation. This operation strengthens the depth of rooting and increases the water penetration of your grass
The rolling of the soil removes air pockets at the roots and allows a better rooting of the young seedlings. All these dethatching processes together will make your surfaces healthier and sublimated.
Whatever the nature of your terrain, the Rotadairon® dethatching machine DS 130 and DS 180 have been specially designed to adapt it. Equipped with a single roller at the front, the basic version allows the DS130 and DS180 to dethatch a large flat surface type such as a sports field. For better maintenance and monitoring of the terrain, a second roller (option 1) can be added to the rear, offering a better quality dethatching. For uneven and hilly terrain, the swing kit (option 2) offers perfect flexibility in the operation. The profile of the ground is precisely monitored, allowing a high-quality dethatching on hilly golf courses. Requiring the second roller, the swing kit benefits from increased stability during operation.
Spikers DS dethatchers: 3 possibilities for more flexibility!
Our range of Spikers Dethatchers allows you to carry out dethatching or aeration operations on all your grounds, whatever their nature.
3 variants are available to you to carry out all your work :
 A basic version, with a front roller, allowing dethatching to be carried out on relatively regular ground, on sports grounds for example.
A version with rear roller, (option 1), offering better ground monitoring.
A "swing" version, requiring option 1, allowing optimized ground monitoring and optimal thatching on hilly ground.
So whether you want to dethatch a football field, or a golf course or a grassy area, we now have a complete solution to offer to you.
The Rotadairon® dethatching machine ED 130 TS is mainly dedicated to Golf Green dethatching operations and performs 6 different operations: dethatching, verticutting, spiking (scarification), rolling but also sweeping to remove the material that remains on the ground on your lawn. It straightens the grass as well as collecting the felt in a 180-litre hydraulic discharge bin. No need to use a mower to pick up waste on your Greens!
The exclusive system of knives fixing to the rotor allows a quick change (in 1h30!) and without any effort of the cutting tools. Each knife is placed independently on the rotor, so to vary their positioning and model. Rotadairon offers 3 types of knives depending on your operating conditions: sharp, not sharp, carbide.
Sharpened knives: made of stainless steel for a classic dethatching.
Not sharpened knives: made of stainless steel for a more aggressive dethatching
Carbide knives: made of alloy steel with carbide plate for a very aggressive dethatching
In order to keep a sublimated looking turf, the dethatching/scarification operation should be repeated at least twice a year in spring and September (under common temperate climate conditions) or during active growing season
If you want a healthy and beautiful lawn, choose the Rotadairon® dethatching machine DS 130 or 180. The ED are particularly suitable for dethatching the sports fields and golf courses.
For an even better result on your greens, choose for the Rotadairon® dethatching machine ED 130 TS model with pick-up bin! In a single pass it provides dethatching and the pickup, of a golf green. No need to use an air blower to blow the cutting residues, the ground is brushed and waste collected, even during morning operations.
Overseeding involves planting a seedling in damaged adult grass. Whether you are a local authority or a private company, the Rotadairon overseeding machines will help you sublimate your grass in all kinds of applications such as green spaces, sports fields, or golf courses.
Restoring grass means to fill the bare areas. Trampling or droughts can be reasons for thinning lawns, as it is often for green spaces (parks, gardens, etc.), sports fields and golf courses.
The Rotadairon® RG 140 and RG 200 allow intra-slit sowing. The knife rotor creates slots in which the seeds are deposited with the help of coulters.
The grooves are closed, naturally, by the soil elasticity and by the lawn itself but also by the compaction of the special pneumatic roller.
The Rotadairon® ROOG 150.60 is a new generation disc overseeder.
This overseeding allows to perform your over-seeding operations optimally. Each disc/injector produces a clean cut and precise seed lay down. This unique design enables us to offer you a compact machine with a limited weight allowing the use of a tractor with less lifting capacity.
The cutting of the groove is carried out by sharp discs, arranged on independent blocks that follow the profile of the ground. The injectors place the seeds precisely in the grooves. The precision seeding, from the stoloniferous agrostis to the classic English ray-grass blends, is obtained by the volumetric adjustment of the spline seeder via the thumbwheel clock dial. The rear roller then closes the grooves.
The amount of seeding is very precise thanks to a volumetric adjustment of all the cells that make up the rotor of the spline seed drill.
The agitator can be extracted without tools for easy cleaning of the tank.
The working depth and seed flow settings are visually marked (index and watch).
Before overseeding it is advisable to de-thatch the grass in order to remove the organic matter (stems, leaves, superficial roots, etc.), aerate the soil and perform a shaved mowing with waste collection. This will allow the grass sown during the overseeding to develop optimally for a healthy green grass!
Rotadairon also offers equipment for the mulching. The mulcher is an essential machine for clearing brush, clearing land or creating a passage in an inaccessible area. The Plant mulcher also known as the Bramble mulcher allows you to get rid of brush, brambles and any tall and dense grass or plant.
The Rotadairon® mulcher BRD 50 for hydraulic mini-loaders, is used to clear brush as well as dense grass. Its floating system, Rotadairon® Patent, makes it possible to follow perfectly and automatically the slopes of the ground, it allows a very high working efficiency and ease of use. Y-mounting of shackle knives contributes to better mulching.
Find out more about our entire product range for the creation and maintenance of green spaces!